The amenities, the quiet and clean environment of our hotel combined with our hospitality guarantee a pleasant and comfortable stay.
A comfortable and relaxing stay in the most attractive area of Piraeus
Lilia Hotel is a small hotel located at the most beautiful marina of Piraeus, in Pasalimani.
Based on a long experience and our love for hospitality we have developed our philosophy that quality does not necessarily mean high costs and that all our guests must feel at home.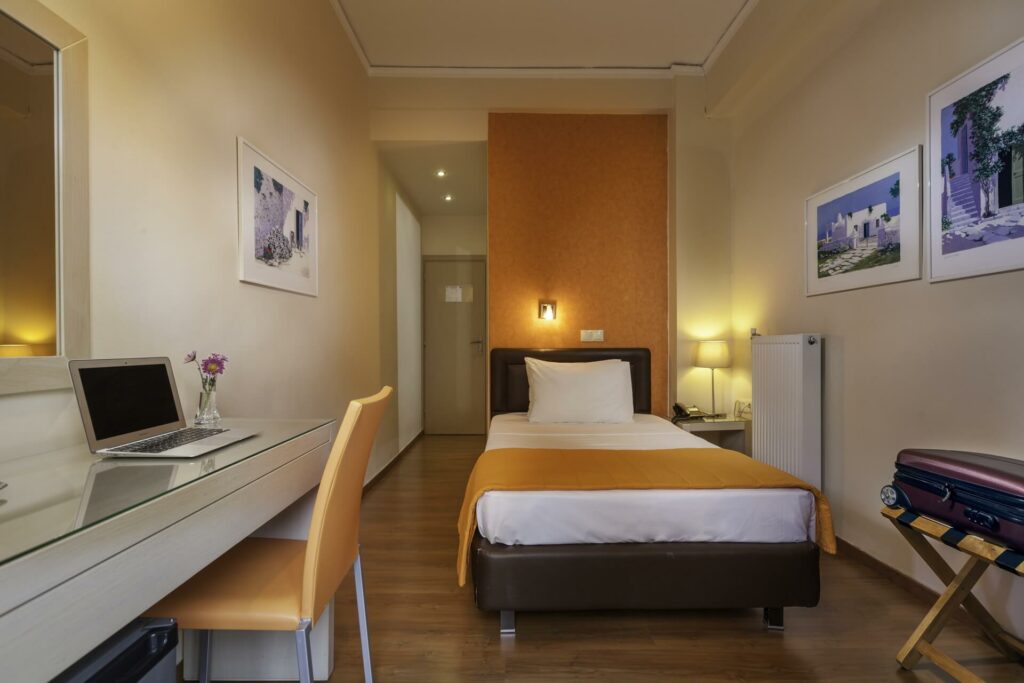 This room comes with a semi-double bed, free WiFi, air-conditioning, LED flat-screen TV, safe deposit box, fridge and a balcony.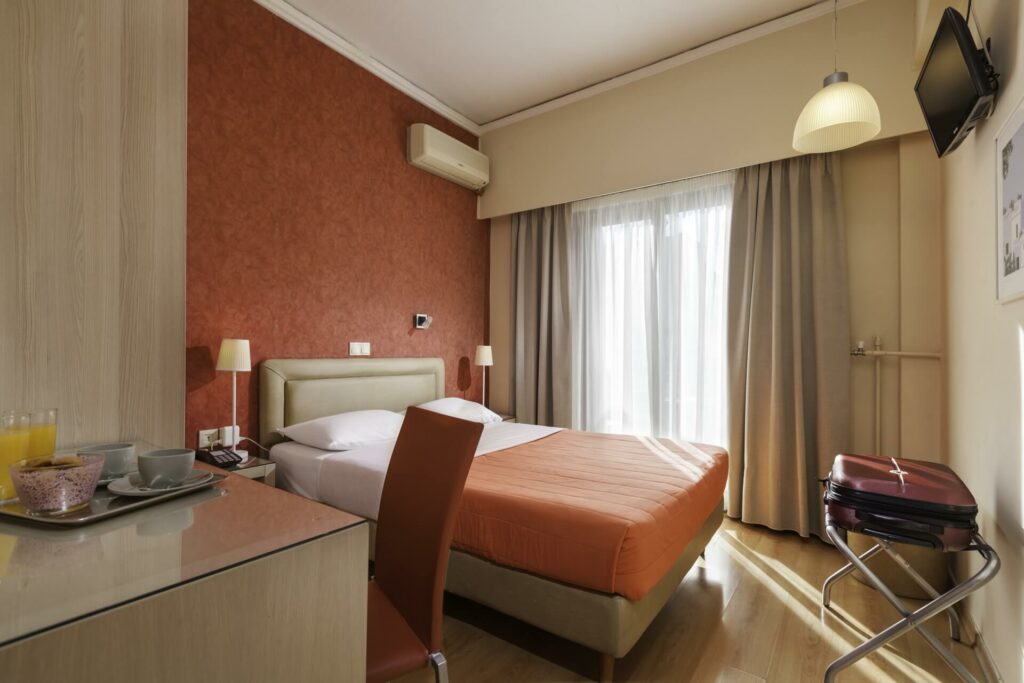 this room comes with one double bed or two single beds, free WiFi, air-conditioning, LED flat-screen TV, safe deposit box, fridge and a balcony.
this room comes with two single beds and one roll-away bed, free WiFi, air-conditioning, LED flat-screen TV, safe deposit box, fridge and a balcony
Perfect for what we needed The best !Booked through Booking .com and got the best deal ever. The staff were so lovely and helpful the room was cosy,great nights sleep AC ,TV , hotshower and huge balcony. Breakfast was continental coffee was 10/10 .Great value for money would recommend.
Carsten Gaardst… R
22/10/2022
Godt hotel Dejlig hotel med en rigtig venlig service, og fin bellighed lige midt i Peræus, til en rigtig god pris, god morgenmad ,fine værelser særlig dem mod gaden hvor der er en rigtig fin altan, meget venlige personaler
Ms Very nice. We had a big terrace where we could see Passalimani. Good breakfast. Very nice and helpful staff. We will gladly stay there again. Very pleased. Comfortable bed. Aircondition perfect. Very close to bus to the airport and boats to islabds
Nice place to stay For the money this place is the best, lovely room, very good staff, very helpful all round great location near some restaurants on the habour, breakfast was good just enough, and a good comfortable bed and air conditioning all on all well worth the money, I'm going back to Athens I will.book this hotel
PatriciaetPierre
14/08/2022
Un hôtel modeste mais qui offre un bon service 5 ans après notre premier séjour, nous venons d'y passer une nuit en attendant d'embarguer pour une île.Certes, l'hôtel date un peu mais il est toujours tenu très correctement, bien propre, offre un petit déjeûner très correct pour le pris (5€). Chambres climatisées.L'hôtel est très bien situé, à proximité de restaurants, de nombreux magasins, de la marina très agréable et il y a même une petite plage toute proche.Le personnel de l'hôtel est très accommodant.
Clean Hotel in the heart of Piraeus We stayed here 4 nights while visiting Athens, the hotel is small but well managed; it is located 50 meter away from the marina so it is a excellent choice if you are here to embark or disembark from the boats.The hotel is pretty basic, with very basic breakfast and services.Hotel is not cheap compared to the quality of it, however in line with other near by hotels.I mostly appreciated the quietness of the hotel, which is just meter away from the "noisy" marina.
Nice hotel, but beware of parking We had a one night stop-over prior to taking a ferry from Piraeus. The hotel is well situated in the centre of town. Parking would, I'm sure, normally be a nightmare, but we got lucky and found a place just 30m from the hotel entrance.We had Room 108 on the first floor. There is a lift. The room was small, but functional, and fine for our one night stay. There was a small balcony with a street view.The staff were really helpful, and breakfast was adequate without being anything special. Very good value for money.
Jodium Adventures
10/06/2022
A small decent hotel within short distance of the Port of Pireaus. Its a small hotel with good and friendly staff. It has all you need for a basic stay; breakfast, good bed, basic shower and a small or bigger balcony.The rooms are getting regular cleaning and the air conditioning is good.The WIFI is working and you dont hear a lot of noises of the harbour-area thats on the end of the street.
Οικογένειακο ταξίδι Καθαρά δωμάτιο , ευγενέστατο προσωπικό , άριστο πρωινό , 24 ρεσεψιόν , καλό wifi , όμορφη βεράντα με θέα τον Πειραιά ,δίπλα στο κέντρου του Πειραιά . Το συστήνω ανεπιφύλαχτα .όμορφη εμπορεία . Σας ευχαριστούμε !
Great place to stay Booked here on a friends recommendation and was not disappointed. Very friendly and helpful staff. All areas, and rooms exceptionally clean and tidy. Simple buffet breakfast but adequate. Very central to shops and restaurants. Will definitely recommend this hotel and will use it again.
Lilia Hotel offers 18 air-conditioned rooms with private bathrooms and private terraces. Room service is offered 24 hours a day.